Here is to the first weigh in week of the Weight Loss Challenge hosted by the fantastic Lindsey over at Mr. and Mrs. Smith (check out her fabulous blog if you haven't yet!!)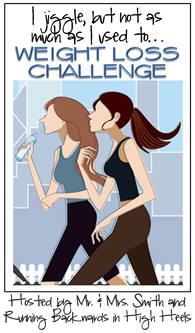 I am linking up with all the lovely ladies who are participating and trying to lose the last few pounds before the summer season! It's a great group that helps encourage each other on one of the hardest roads to undertake. Weight loss and fitness are essential to a healthy lifestyle and I am a strong believe that strong and encouraging support groups are the key to staying on track and meeting goals.
Last Thursday was the first week of the challenge and the initial goals were made. You can read all about mine here.
I am 5'7''

I weigh somewhere around 146 pounds

I'd like to be at about a 125-130

My goal is to lose about 15 to 20 pounds
I am happy to report that when I got on the scale today I weighed 141.2 pounds. Which was surprising, because my weight had not budged at all in the past two months. I've been at a steady 145.7 to 146.2. I do have to admit I am really bad about weighing myself continuously, daily or even weekly, so I think my last weight check was about a week and a half (maybe two weeks) ago. Which means that the weight loss might not be all during the last week. However I'm happy with it! *Dancing a little jig and celebrating*
You can read all about what I've been doing here, here, here and here.
I have started taking fatty acids and a fat burner in addition to my multivitamins, calcium and protein. I am also looking into some other nutrition methods such as consuming more power foods!
If you want to get more of my tips check out the 25 Days of Fitness!!!
Day 2: Baby Steps to a Healthier Lifestyle – drinking more water
Day 3: The Four Basic Elements of Health
Day 4: Foundational Supplements
Day 5: Performance Supplements
Day 6: Results take some time
Day 8: Reasons weight loss takes time
Day 9: Trouble spots – Thighs and Butt