It's that day of the week… I'm linking up with Lindsey at Mr. and Mrs. Smith for the weight loss challenge.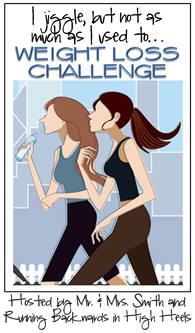 It's a great group that helps encourage each other on one of the hardest roads to undertake. Weight loss and fitness are essential to a healthy lifestyle and I am a strong believe that strong and encouraging support groups are the key to staying on track and meeting goals.
I am 5'7''
I weigh somewhere around 146 pounds during week 1

I'd like to be at about a 125-130

My goal is to lose about 15 to 20 pounds
I have actually been weighing myself all week, every morning. This is something that I've never done before and is a little strange. I think I'm going back to just weighing myself Thursdays mornings.
Today I weighed in at a 140.0 pounds even. That's a 1.13% weight loss for the week and a 4.11% since the initial weigh-in.
I feel that I am doing okay. I really slacked on working-out this week, and skipped Body Pump on Monday. However, I still went to the gym, burned some calories on the stairmaster, worked my lower body and abs.
I have set up a new training schedule that will start this Sunday. It will look something like this:
Sunday: Body Pump
Monday: Lower body, abs and cardio
Tuesday: Cardio
Wednesday: Body Pump, some legs, and abs
Thursday: Rest day
Friday: Upper body, abs
Saturday: Rest day
I hope y'all are feeling great! Just think of the awesome bods you'll have this summer, and how much better off you are being healthy!!
I'll look like this again