It's that day of the week… I'm linking up with Lindsey at
Mr. and Mrs. Smith
for the weight loss challenge.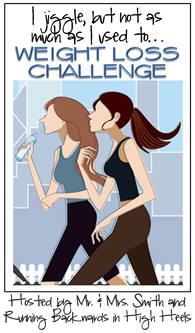 It's a great group that helps encourage each other on one of the hardest roads to undertake. Weight loss and fitness are essential to a healthy lifestyle and I am a strong believe that strong and encouraging support groups are the key to staying on track and meeting goals.
These were my initial stats:
I am 5'7''
I weigh somewhere around 146 pounds during week 1
I'd like to be at about a 125-130
My goal is to lose about 15 to 20 pounds
Last week I was at 140.0 even, today I weighed in at 141.5, while this is a 1.5 pound gain, I am not too worried about it since I've been doing a lot of strength training. I still fit into my jeans, and have noticed changes on both my legs and abs.
I've been hearing a lot of "I'm not losing weight, but gaining even though I'm working out every day" from my gym buddy and several other friends so I'd like to remind everyone that being fit and healthy includes gaining muscle which just happens to weight 3 to 10 times more than fat!!!! Yup, you heard right, and this is why I advocate keeping track of your weight loss by a pair of jeans. It is the best way to insure that you are becoming healthier rather then just losing fat.
I've been a bit of a slacker in the gym department these past few days due to my knee, but I'm still eating better and trying to keep track of my calories.
Hope y'all have a great Thursday and a fantastic weekend!