I've been pretty bummed out lately, and negative this past week due to my computer issues and being so behind in life in general. To add on to this, I still have to take pictures of all the clothes for the blog sale, finish putting everything on the computer. I have 3 articles waiting to be written that I've neglected. A pile of laundry to be done. Some studying and research that has been adding up in a not so neat pile. My office/crafts area to be set up and decorated in our unfinished basement and so on.
But I think its time to make a happy list to really see why my life is wonderful and why I should be grateful for everything I have, instead of being a negative nelly all the time. So I am linking up with Mamarazzi for a weekend Happy List!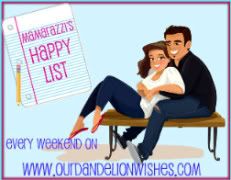 I have the best husband in the world. Really guys, you may think you have the best guy, but this one is the best[period]
He puts up with my fits, especially when I am fussy and go off at him for no reason whatsoever!
Yup, this one right here is a keeper. He works hard daily to provide for us, he helps me around the house when I ask him, and he totally supports my decision to work from home, even though it means less money right now and a longer period of time to pay off debt.
In short, he makes me happy and I couldn't ask for more.
I am so happy that I tried our PinkLouLou's tutorial on how to do a French manicure at home.
I couldn't find my white polish so they had to be silver, but I really love the way they turned out, which means now I can do them at home and save money! I gave up on acrylics in November and I've just been painting my nails whole which gets boring, but now they can have all kinds of colored tips.
In addition, the Mister LOVED them, and commented on them, which is saying a lot because he rarely notices or comments on my nails.
BOO YA!!!
It makes me super happy that we decided that we are going to take a road trip down to these two's wedding in November.
Please tell me they aren't the cutiest couple you have ever seen!!!
This is the Mister's cousin who is so lucky to be marrying this beautiful girl. They happen to be one of my favorite couples, so it makes me really happy that we will make it to their special day.
Of course unless something stupid comes up between now and November.
It makes me even happier that we might be able to do our road trip in our beautiful Camaro.
She'll be a little over a year old, and as long as we don't have any snow in the mountains or we decide to drop two grand on a new set of tires (not likely) we can take this baby out for a nice drive on the open highway. Otherwise we'll take the VR4, which would also be an awesome drive.
As for things right now.
I'm happy that I get to set up my brothers old desktop and use it, and don't have to spend extra on getting a new desktop.
I'm happy that the sun is shining. It makes me happy even if I do look like Rudolph and cannot go out and play in the sunshine.
I'm happy that I have a roof over my head, food on the table and enough funds to live comfortable.
I'm happy that I know we'll be able to pay off all of our debt within the next 6 to 7 months. Well at least the bad debt.
I'm happy that the Mister and I have the same game plan, and that we are on the right track to making our dreams come true.
I'm happy that even today, we're living our dream and have each other to lean on.
In short, while there is a longer list of negatives I can give you. I'm happy to have the life I have. Happy to have the people I love in it. Happy to be alive and to be able to have so many wonderful people with me.
On an even brighter note. I was not expecting to get 50 followers this month. BUT I did, and every single one of you makes me so happy. Every comment, every email and every visit makes me jump up and do a little jig. ALSO, as I had promised the day I got 50 followers I would do a giveaway. Well, the giveaway is something from my new project, so it should be ready within the next week and will be announced as soon as possible.
Thank you all for making my day such a happy one, and thank you from the bottom of my heart for caring about what I write and reading it. I've met some amazing people through blogging and am so glad that I get to meet more.
LOVE love LOVE you all!