I'm linking up with Megan over at A day in the life today for the Friday Book Club.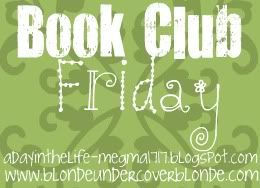 I'm on to my nest Dresden book, but don't want to bore you with all the fictional mambo-jambo, and if you want to read about them go ahead and click on the link and it will take you to my last post about them.
The book I do want to share with you today, is one my Grandfather passed down to me before his lung-cancer surgery. The book is Three Picassos Before Breakfast as told by Anne-Marie Stein, an art forgers wife.
The book is about the life story of David Stein, a very famous art forger.
David Stein (born Henri Haddad, January 27, 1935, Alexandria, Egypt - Died October 1999, Bordeaux, France) was an artist who, until 1966, had been frequently sentenced for theft by the French courts before becoming an art forger and art dealer with 15 aliases.
What I really loved about this book was not only the story but how much David and Anne-Marie traveled. They would literally live in hotels and small apartments all of Europe, and get up and move every few weeks or months.
I especially love non-fiction books because they each leave you with a part of the real experience and give you inspiration to do something other then the 9 to 5 job and "required" steps. By no means am I saying that this book encourages people to become art forgers, but I believe it encourages people do be better, to experience life on another note and NEVER give up on their dreams.
The book is a fast read. I finished it within a day and a half. Very well written and fascinating to read.