It's that day of the week… I'm linking up with Lindsey at
Mr. and Mrs. Smith
for the weight loss challenge.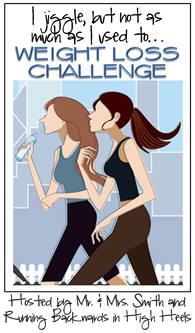 It's a great group that helps encourage each other on one of the hardest roads to undertake. Weight loss and fitness are essential to a healthy lifestyle and I am a strong believe that strong and encouraging support groups are the key to staying on track and meeting goals.
These were my initial stats:
I am 5'7''
I weigh somewhere around 146 pounds during week 1
I'd like to be at about a 125-130
My goal is to lose about 15 to 20 pounds
Last week I was at 141.5, today I weighed in at 139.6, this is a 1.9 pound loss. Last week, I spent two days at the gym, then was home for the rest of the week with a bum knee. This week I was at the gym on Monday and Tuesday with yesterday as a rest day, since I had to work and had no way of actually getting to the gym. I'm attributing my loss to the lack of soda for the past month and the muscle that I've been building. When you build muscle, it starts to eat away at the fat even when you are sitting around. How cool is that?!
My goal for this month is to cut out all fast food including restaurants. I'm hoping that this will help force me into healthier eating habits as well as be budget friendly.
Hope y'all have a great Thursday and a fantastic weekend!